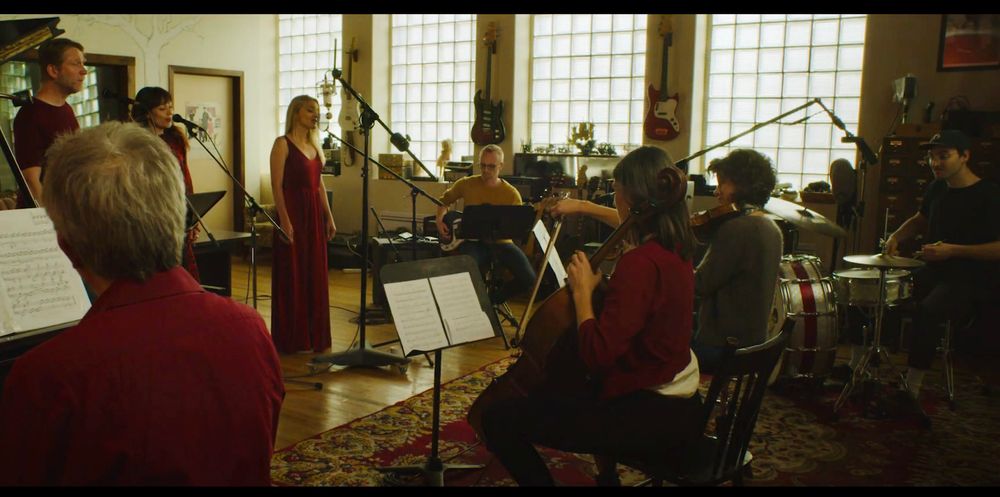 "... half-sultry, half-playful and absolutely dynamic." coup de coeur (featured favourite)   
24hr-Journal Montreal/Anne-Lovely Étienne.
Summersett Members:
Nick Carpenter, Piano/ Keyboard 
Patricia Summersett, Lead Vocals 
Pierre Gaudreault, Electric and Upright bass  
Jean Philippe Godbout, Drums and Percussion  
Eric Davis, Vocals  
Holly Gauthier-Frankel Vocals
Sheila Hannigan, Cello  
Amelie Lamontagne, Violin 
 - Art folk duo and band from Montreal -    
Summersett is an indie-folk band sprung from the stages of the Montreal theatre scene. They perform as a piano/vocal duo (Nick Carpenter and Patricia Summersett) and an eight-piece ensemble - their moody songs releasing into lush strings and radiant vocal arrangements. Following the release of their first album (2015), Summersett played Pop Montreal, Canadian Music Week, the Fringe and WildSide Festivals, Nuits d'Afriques and were featured at the Centaur Theatre's 50th Anniversary Gala as well as the 2017 ACTRA Awards. They were twice nominated for Greenland Awards for their performances at the Montreal Fringe Music Series. 
Summersett emerges from pandemic hibernation with a new single I Accept with upcoming sophomore album Friends at the End of the House (2022): an intimate portrait of their hopes, heartbreaks and breath-stealing renewals of the last seven years. This collection of songs is an ode to the city of Montreal. It builds upon the band's signature earthy intimacy, brushing the worlds of chanson, classical and cabaret.  
fr: Summersett est un groupe folk-pop troublant et fantaisiste dont le style évoque le cabaret et la nouvelle chanson. Le duo piano-voix, éclectique et centré sur le récit, est complété par des musiciens jazz et classiques.
Press 

 "... Her voice dances lightly across the lyrics' surface one moment, only to plunge into the deeper recesses of an emotional chorus the next. Composed, assured, and never less than captivating, she's the focal point through which the band's chemistry as a whole finds its most succinct, fluent expression. It's that word–chemistry–that gets closest to encapsulating the work of Summersett. Every facet of the band's make-up expresses some version of it..."  Yul.buzz /Rory Mccluckie

"This band evokes a sense of contemporary pop and folk as much as that of cabaret, magic and music halls typical of Paris in the roaring twenties." - Barbara Ford/ Charpo

"Patricia is the band's lead singer, and the intensity of her performance reflects a talent that has been cultivated through her work not only as a musician, but also in theatre, film, television and voice."
Kei Hendrix/Bandmark